They're back. And the CW is celebrating. Because while last tuesdays double-episode was very well done, the Nielsen Live Plus ratings the next day were if possible even better. The premiere put The CW in second place overall in the Tuesday adults 18-34 and women 18-34 slot, behind NBC. The netwoork placed first that evening among total teens and female teen viewers.
As for the show... Well, honestly this has been my dirty little secret for a long time. I fell for the pilot, got bored with the Blucas dramz, and have been falling again every once in a while ever since. Yesterday we were taken four years ahead (from the high school grad finale), i.e. skipping the college years. Which was probably the wisest decision made on a teen show... ever.
The kids are young (21/22) adults, there's a kid involved (little Jamie Scott), there're careers peaking and barely moving, and the standard warmth and old school Steinbeck quoting feel to it remains. They aren't all successful, there is no bad start which immediately moves into a new storyline we've already followed, but at the same time the gang ends up back at home and they are moving their lives ahead. Some people have tasted success, but nothing is completely utterly impossible if you really think about it. Sure, they stretch the limits... alot. But it's a tv show.
In the end, hearing Lucas (Chad Michael Murray) and the rest of the cast doing their start-and-finish voice overs each episodes, drabbling about the philosophy of life and change, makes it work. It puts the show on another level... No 90210 or OC extravaganca here. Family, real friendships, and backstories, blended with a lot of good (although the whole K fed idea makes me very nervous... because of his singing range) music make this drama. Now let's just hope they don't jump too far into the Brooke-Lucas-Peyton triangle again... It's so over.
Plus, Paul Johansson (Dan Scott) directed, and that's always bound to be interesting at the very least. Good job Dan.
Oh and a big shout out on little mister Jackson Brundage who portrays four year old Jamie Scott (Haley and Nathan's kid). He does such a great job, delivers his lines so well, and just turns me into a blubbery mess... Adorable I say, just keep the kid in North Carolina or wherever and far from the Hollywood insanity work over dose. We all saw what happened to Culcin.
As for the strike's impact, the CW had apparently ordered 22 episodes for season five, but only 12 were shot before the WGA went a striking. The 12th episode also happens to be the 100th for OTH, so big celebrations ahead there. And what with fan reactions, who knows about a sixth season?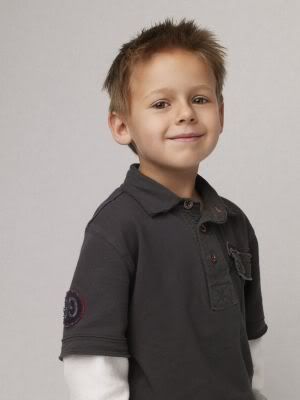 Little Jackson Brundage is the new man on campus... or the tree hill basket court.