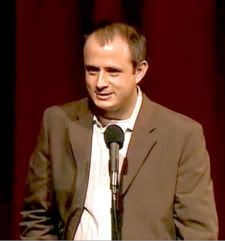 Found a vintage (i.e. summer ala 2007) interview with Eric Kripke (creator/writer/producer/director of
Supernatural
) from the Comic Con event, wittily entitled
Eric Kripke: Satan's Head Writer
. It is hillarious, and a great fun read for the fans. He discusses (mentions) the turbulence behind the scenes for getting to season three (I'm guessing getting terms and cutting deals with the CW people in suits), freaky coincidences, and what's up ahead.
Here're some extracts for you
Eric Kripke can top that. " Sometimes we worry that we're Satan's writer's room because we'll come up with something and it will happen in reality."
The joke hit a bit closer to home however, when Kripke's new baby boy was born on Sam Winchester's birthday! In the pilot episode of Supernatural, everything begins on the sixth month anniversary of Sam's birthday when the demon visits and kills Sam's mother.
"Yes, November 2 (his son's sixth month birthday) is going to be a very nervous day in our home. It's really troubling and weird and honestly a little scary."

"We did not know we were coming back. I would say we were hopeful, but Season Three was not a fait accompli by any means. Frankly, behind the scenes there was some fighting going on to make sure we came back but you can't let that affect your storytelling. I have to tell the story I want to tell, at the pace that I want to tell it and hope for the best."

"We have a show that is as cool as Battlestar, we just a happen to be on the same network as America's Next Top Model. But tune in because we're there and we'll have interesting conversations about death and revenge and immortality and suicide."
"We have the best fans in the world and we want to mobilize that army to tell their friends. We want to come back for Season Four but that's much more in the audience's hands than it is in ours. So tell your friends! Have parties!
And he even has a slogan you can use. "Come on in, the water's bloody."
Sounds like we have another exciting year in store for us at Supernatural!

For more,
click here to read the whole thing
.